Cooler Gallery
June 2017
BEYOND ZERO
A Structure for Hope and Survival
We are living in precarious times where human greed, stupidity and ignorance threaten the existence of all life on Earth. It is our moment as humans to reflect on ourselves and confront a destination once thought as fiction that is now our probable future. The sixth extinction is in progress but our potential to problem solve is remarkable. Our actions and policies in the next generation will determine the fate of species for thousands of years to come, if not millions.
A Structure for Hope and Survival is a framework of organizing artifacts, objects, art, tools, books, games, supplies, seeds, plants and provisions. The abridged collection of how-to's, catalogs and books to inspire, build courage and the skills to lead a life of resilience and hope on Earth. The installation is a multi-dimensional nano-structure utilizing steel pipe tubing, scaffolding connectors for simple installation and adaptability. It is a modular ecological unit, that can be connected to multiple units to expand into a larger framework. The project is open-source and a Beyond 0 Manual is in the works and encourage those who are interested in building one for themselves.
The geometry of the structure is based on Vitruvian Man that measures at 6' x 6' x 6'. The open system has been tested in a series of iterations that include a Jungle Gym, Plant-Lab, Wine Bar, Nano-Room and the current iteration "A Structure for Hope and Survival." The structure also secures the need for seating, storage, solar power, grow lights and a stairway to a lookout post. The structure is partially pre-fabricated and and can be assembled alone in hours or with someone within minutes. The structure can gradually fortify through the test of times. The project is inherently open-sourced, and can be viewed as a hack-machine made for living. It can accommodate any existing building material, surface, home goods and necessities. The structure is simply one big steel suitcase of all the stuff that support your resilient spirit and what it might take to sustain hope and a future for a better world.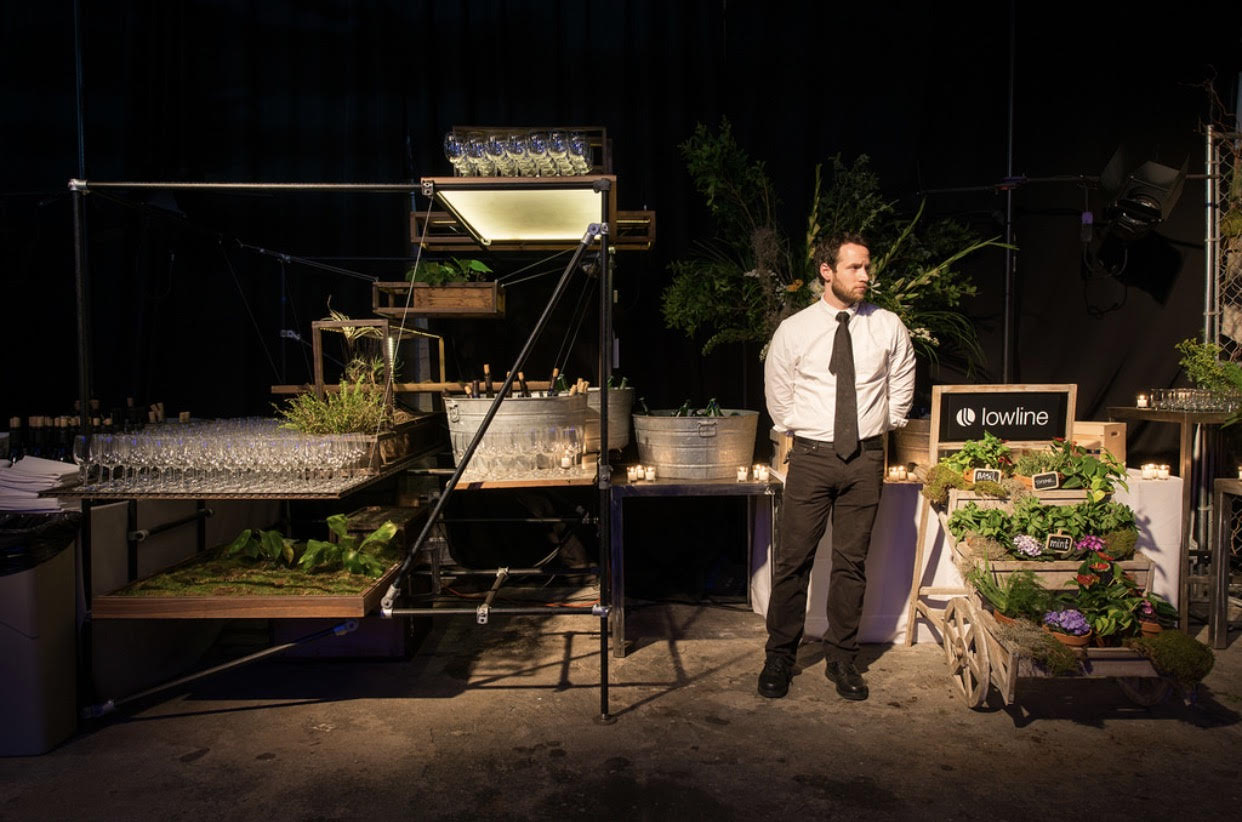 Beyond 0; Parts List
Structure
Slip-On Structural Framing Fittings
1" Low-Carbon Steel Tubing
Gas Plumbing Pipe
Longitude Pipes 72" x (n)
Latitude Pipes 70" x (n)
Half attachments 34" x (n) x 2
Diagonal Bracing 24" x (n)
Source: various plumbing, amazon and hardware stores, mcmaster Carr
Wish List, Prefab programic framing iterations
Irrigation Channels and Components
Copper Pipe and joints
Compact Pump and Hose for Water
Terra Cotta Pot
Plant-in City Block
Plant-in City Grid Topo (watershed system)
Mister Fogger
Source: plumbing and hardware stores, NY Heartwoods, amazon and, mcmaster Carr
Wish List, Water Purifying system Rain Water Cistern Recycled infrastructure. 3D Printed pipes and fittings
Lighting
LED 3000k Warm Light - Tape Light
LED Grow Light - Tape Light
Wish List, Solar Power, LED Grow Light
Source: plumbing and hardware stores, amazon, mcmaster Carr
Plants
Aloe Vera
Birds of Paradise
Cacti
Wish List
NASA Clean Air Study
From Wikipedia, the free encyclopedia
The NASA Clean Air Study[1] was led by the National Aeronautics and Space Administration (NASA) in association with the Associated Landscape Contractors of America (ALCA). Its results suggest that certain common indoor plants may provide a natural way of removing toxic agents such as benzene, formaldehyde and trichloroethylene from the air, helping neutralize the effects of sick building syndrome.
The first list of air-filtering plants was compiled by NASA as part of a clean air study published in 1989,[2][3][4] which researched ways to clean air in space stations. As well as absorbing carbon dioxide and releasing oxygen, as all plants do, these plants also eliminate significant amounts of benzene, formaldehyde and trichloroethylene. The second and third lists are from B. C. Wolverton's book[5] and paper[6] and focus on removal of specific chemicals.
NASA researchers suggest efficient air cleaning is accomplished with at least one plant per 100 square feet of home or office space. While the original study only considered plants grown hydroponically (ie without soil), more recent research has shown that micro-organisms in the potting mix (soil) of a potted plant remove benzene from the air, and that some plant species also contribute to removing benzene.[7]
Surfaces
Engineered Flooring (Madera)
Walnut 1" Touge and Groove
Plywood
Arylic 1"
Cedar 2x2
Source: Past projects, scrap, plumbing and hardware stores, amazon, mcmaster Carr
Other
Vintage Fan
Military Storage Units
Vintage Metal Locker
Books and Catalogs
Whole Earth Catalog exhibition at MoMA
Burkhard Meltzer, Rethinking The Modular, 2016
McDonough, William Cradle to Cradle: Remaking The Way We Make Things, 2002
Fuller, Buckminster, Operating Manual for Spaceship Earth
Benysus, Janine, Biomimicry: Innovation Inspired by Nature
Anderson, Chris. Makers: The New Industrial Revolution
Evgeny Morozov, Making It, New Yorker, 2014
Scranton, Roy. Learning to Die in the Anthropocene: Reflections on the End of a Civilization, 2015
Tompkins, Peter. The Secret Life of Plants: a Fascinating Account of the Physical, Emotional, and Spiritual Relations Between Plants and Man, 1989
Wohlleben, Peter. The Hidden Life of Trees: What They Feel, How They Communicate – Discoveries from a Secret World
Colbert, Elizabeth. The Sixth Extinction: An Unnatural History, 2015
McNeil, J.R. The Great Acceleration, An Environmental History of the Anthropocene since 1945
Mau, Bruce. Massive Change, 2004